Boat, Marine Craft Vintage Boat Parts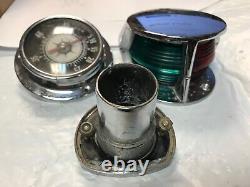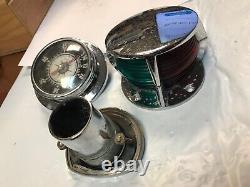 VINTAGE MARINE/BOAT PARTS INCLUDE A RUNNING LIGHT, FUEL INLET PIPE AND SEA SPEED CONTRALOG. THE RUNNING LIGHT HAS GOOD LENSES, DECENT LOOKING CHROME BUT NO LIGHT SOCKET. THE FUEL INLET HAS A SCUFF MARK AND A COUPLE PIT MARKS.
THE AIR SPEED CONTRALOG HAS A 1/2 CRACK IN THE LENS, CHROME LOOKS GOOD.